The most important aspect of any growing business is your website. Your online presence is the digital business card that can gain or lose interest in the services you have to offer. That being said, if your website does not grab your customers attention and engage them in action – your current website is damaging your business.
It's critically important that who you choose to design, build and market your website, can be essential to achieving an online income with unlimited prospects and possibilities.
Let's take a peek at the modern-day offerings of Yell.com. Fundamentally why Yell is a terrible choice for your growing business website.
Feel free to bookmark this page for later.
What is Yell.com?
If you are unlucky enough to remember the times without the internet, you may have unfond memories of owning a big yellow book. Most often it was used as a table steadier, but in time this was the most widely used directory for finding local businesses and for their marketing needs. Yellow Pages was the top of its game.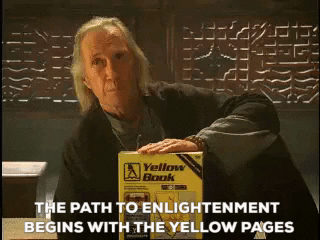 If you have been in business long enough you may remember the high cost of advertising with them (somethings don't change). With Yellow Pages at the top of its food chain, it was money well spent.
Decades later there were far more efficient solutions available at the click of a button. Introducing "The Internet", with an amazing feature called Google. Over the years, you could tap a universe of information from your pocket. Much smaller and easier to use than a big yellow directory.
As of 2017, Yellow Pages died an expensive death. The company was in huge amounts of debt and was taken over by lenders. All efforts to regain these losses were focused on a pressure sales strategy via Yell.com
Ever notice when you signed up to Yell as a "Free" listing, suddenly your email was full of Yell junk trying to sell you a service? That's what we call lead generation, and you are now subscribed to an annoying sales call to upgrade your listing to a website.
Yell.com – From Hero To Zero
In the years of the 80s and 90s Yellow Pages solved a problem. They added value to your business by allowing advertisements in these widely kept mammoth books. An investment you would generally see a return. Fast forward to today – Yell.com? Not so much.
Here at Webbage, we have a simple and effective attitude to website building – efficiency, efficiency, efficiency. In the process, we solve the problem of effectively marketing a website online and efficiently engaging a prospect to action. Somewhere along the way, Yell.com focused on profits more than solving problems. Yes, we like to make money, but not at the expense of a client, and certainly not at the reputation of a business.
Yell's sole objective is self-preservation. Sign-ups create more leads. Leads create more sales. Sales mean more backlinks and money pointing back to Yell. A Yell web design is essentially an expensive directory spot – not a website.
Putting in simply, Yell sells smoke and mirrors from a reputation that died over a decade ago.
The Problems of Yell Website Design
Let's hear a few of the main reason why previous Yell customers have converted to the safe haven of Webbage. Our ex Yell clients were not seeing a return on their investment, we focused on their needs and helped them with marketing.
From their Yell website experience, we shall list the common problems that we have found from new and old Yell customers.
1.High-Pressure Sales
As with many sales teams, they focus on commission rather than customer service. As a result, the Yell sales team oversells and underdelivers. There are large amounts of complaints of Yell making verbal promises that tend to exaggerate results. leading to contracts being signed under false impressions.
What we have found is by Yell offering "limited time" deals and discounts, this leads customers rushing to sign contracts they cannot get out of. Customers consequently regret signing up.
2. Signing Up
Nobody likes a contract, but we all understand the need for one. For you the customer it's an agreement for you to pay for a service you will receive. But what about results? Yell website not performing is an accurate description we have found on Trustpilot. What we find is these customers are in a 12-month contract and stuck with it.
Some of these horror stories include a customer reporting a salesperson signing them up for additional services they did not want. Yep, those additional extras cannot be taken off for the period.
3. Yell Prices
Let's face it, websites are not cheap. A single-page website without essentials will set you back at least £100 a month. but a few extra pages can see this rocket to over £500 a month. The real price does not include the monthly hosting fees, upgraded listing on Yell.com and vague marketing services.
For a well-designed small business website, you could be looking at anything from £5000 – £10000 with the host of additional fees needed to keep it running. That's an incredible investment when you are failing to see results. Not cool.
4. Bad Template Design
It's pretty clear Yells designs are not exciting. If you search through any Yell Business website you will find a copy and paste aspect. That's because it is. It's a website template that been duplicated 1000's of time.
With this in mind, your business just does not have the personal touch online you would expect to find from other web designers. Play spot the difference:
Just search "powered by yell".
These websites are built for speed, and not in the loading sense. It's a simple fill in the box template enabling the "designer" the create a website in hours rather than days. Money well spent? I don't think so.
5. Yell Rents You The Website
Those monthly payments seem like a good payment plan until you realise it's just rent. We are Yell, we build websites, which you then pay to rent. Put simply, you are £100s sometimes £1000s for features you will never own. It's the Yell money wheel!
If you want to leave then you can expect to shed more money into a completely new build. In reality, you may as well have done this in the first place.
The ultimate reason not to go with Yell is it's just not cost-effective. You will always be spending money!
Now if you want an efficient, effective and good looking website – contact us and Webbage can offer a monthly plan where you can spread the cost and own the website.
6. Expensive Hidden Hosting Fees 
Let's put this in really simple terms. An extremely fast hosting service we offer for WordPress websites is £169.00 for the year. In comparison, Yell.com is over £1152 for the year (£96 a month). That's a massive 550% increase in unnecessary host fees.
Does Yell offer a superior server to its rivals? Absolutely not. There are no benefits for this price. And if you want to move your hosting over – forget about it, Yell won't let you.
7. Traffic and Search Analytics
Google Analytics is relatively easy and free to install. So why does Yell want to charge for this, and when they do they get it drastically wrong? Checking the traffic to your website is essential to know what steps to take next. It's a basic any lead website should have.
Of the additional extra Yell offer including Pay Per Click and other lead-based services, I cannot see how they can complete report without these tools. Where would the data come from?
If you are silly enough to pay the astonishing fees for this service, be careful as we've seen this be installed incorrectly.
8. Support
Be prepared for the dreaded "I will pass this on to" followed by Relationship Manager, Adviser, Accounts Manager to name a few. "I will get back to you" is another common trait of the international call centre lottery. Where will they answer the phone today? Peru? Colombia? Hardly a personal service.
If you take a look at Yell On Trustpilot see the reports of the number of people with the wrong business information on their website. A quick fix that takes Yell months to change.
For a website designer who wants to help your business just contact us for a chat.
What Do Yell Customers Think About Their Website? – Reviews
There are 8 pretty basic failures of why using Yell is not a good choice for website building. There's a choice of an expensive website you will never own or a cheap website that does not perform. Small businesses need a great foundation for their online needs and budget. Yell just do not offer this.
As Trustpilot for Yell is updated daily with negative comments, let's take a look today and see what we can see. Here are some comments.
"This company has done nothing for me"
"Do not use yell.com you have been warned"
"Completely agree with all the negative reviews about Yell "
"Horrendous Experience, Stay away"
More can be found here @ Review for Yell.com
Get Away From Yell
A wise choice, so what's next? A great place to start is to look for a trusted web designer (like Webbage), who have a track record of results. You need a cost-effective, efficient website you can build on that's within your marketing budget.
You can go for a cloud-based website, such as Wix, although they do not offer the best solution for SEO and analytical needs. WordPress (what we use) is far more favourable to grow your small business to its endless possibilities.
Whilst most website developers can design and build a website, fewer understand the marketing and the very basics of business. Webbage offers a consultancy service with all our clients, so we can understand and strategise to your needs.
Whatever your budget, business size or needs we can help:
Just ask Webbage.
Seriously, just get in touch via email or live chat (pop up below). No question too big, no idea too small – we want to help you in any way we can.